SageTV has brought forth new Media Center standards over several generations and years of major software updates and plugins. It appears that sageTV technology was a little too good; and unfortunately Google acquired SageTV when it was ripe for the picking to use for their own future products.
http://www.androidme.org/news/google-acq...h-dvr.html
Due to this acquisition, sageTV users' core software development is uncertain. SageTV and it's plugins are self-sustained; with plugin development moving forward. However, the fact remains that new core feature development may not happen.
The reason I'm posting here is because when I look at NPVR, it reminds me of sageTV's functionality 4-5 years ago when it was still in its infancy. I consider NPVR the underdog, with lots of potential. I think that NPVR definitely has a shot (possibly better than Microsoft) at adopting the hundreds of sageTV users who are currently keeping their options open. I'm sure there will be several sageTV users lurking around to find a possible Next-generation Media Center solution that offers even more functionality than mentioned below. I wish NPVR the best of luck to be the #1 contender!
Anyway, I was looking through the various core features and plugins for NPVR on the new, comprehensive NPVR Wiki site, but don't see several "must-have" features. It looks like some of the features that are similar; but, still in it's initial stages and not wife-friendly as sageTV. For example, my wife can install, uninstall, disable plugins right in the living room with just a tiny remote control.
Here are some "must have" features that are either missing or needs to mature in NPVR in the core and/or plugins. There are several miscellaneous missing features I didnt mention, but I woudn't consider them as "must-have":
1. Native support for BD disc, ripped BD folder, and BD ISO playback. There are several HTPC enthusiasts who have large BD libraries in the form of ripped folders or ISO's. SageTV can playback BD discs, ripped folders, and even ISO's automatically and invisibly mounting/dismounting ISOs; and, best of all... can be played back on any client on the LAN; including sageTV hardware extenders (HD100, HD200, HD300). The only thing needed to do install Slysoft "Virtual CloneDrive" and the HTPC's enthusiasts' must-have tool, AnyDVD-HD (no configuration necessary).
2. HD audio (DTS-MA/HD and True-HD) is fully supported for bluray movies as long as Arcsoft audio filters are installed . All audio formats are fully supported via bitstreamed using sageTV hardware extenders.
3. Completely automated fanart (and respective metadata) download for TV episode banners, TV seasons (integrated into Program Guide, TV recordings, Upcoming Movies, and other plugins. You can "set-and-forget" it after installing the plugin. This is the most popular feature for sageTV; supported by all SageTV plugins, themes, sub-themes.
I realize NEWA Search plugin for NPVR offers fanart/metadata downloads; but it's just not near as nice as sageTV's
Many people with ripped Bluray & DVD folder/ISO/MKV libraries stored on NAS or local have full movie backgrounds and posters supported in XMBC/WMC MyMovies- style graphics via several plugins. SageTV users LOVE eye-candy!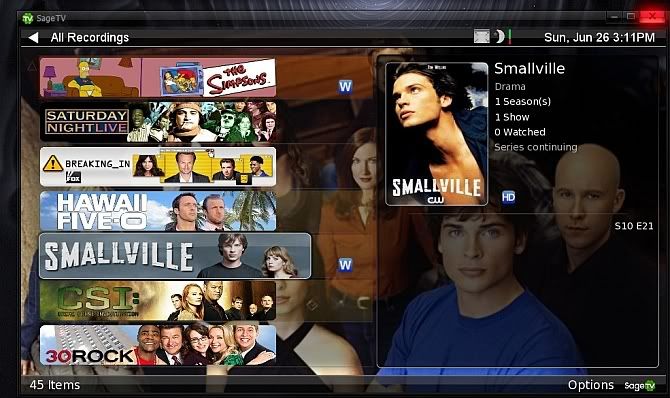 4. Squeezebox client support. Native squeezebox client support for SiriusXM, Pandora, Slacker, LastFM, Itunes, Amazon, Napster, Spotify, and even local FM radio station playback on all clients; even hardware extenders. With artist artwork and biography, news, and music video playback/download for what's on radio.
5. Full object-oriented programming language "Studio" to make the GUI and plugins do anything plugin developers' heart's desire. It offers seamless integration with Java libraries. It's so easy, someone with no programming knowledge, like me, can make very basis; yet, very useful plugins and features.
6. Movie trailer playback (as previews for Bluray movies and recorded TV shows and movies.
7. R5000 and Firewire support for cableTV, DishNetwork, etc for full quality recordings (not lower quality "copies" from analog output of cable/satellite boxes. I have 4 R5000 tuners!
8. Local Music/Video browsing not confined to just OS folder structures. They can be sorted in various ways with artwork.
9. Hardware extenders (similar size to WD Live boxes) with FULL capabilities (plug n play in any room of the house via Wi-Fi or Ethernet).
http://sagetv.wikispaces.com/SageTV+HD+Theater+300
10. Plugin repository. All plugins developed by end users can be submitted to a plugin repository (sort of like an App Store); where plugins can be downloaded with only a simple TV remote control. NO MORE messy/tedious installations by downloading zip files via PC web browser, unzipping, configuring configuration files, etc. Plugin repository can even detect if there are plugin incompatibilities to prevent accidental problems. This was a fantastic idea that was implemented in sageTV 7.
11. Fully functional clients over Internet called "Placeshifter" clients. This is my favorite features. Without this, I can't watch CableTV & On Demand/Blu-ray/DVD Movies transcoded at DVD/HD quality, schedule/playback TV recordings or live TV, with all plugins/features enabled such as Radio, Music, Picture, etc.
12. Fully functional SageTV server and clients are available on all popular OS's: Windows XP/Vista/7, Mac OSX, Linux, Debian. This is IMO, what sets sageTV far ahead of the competition.
I'm not expecting for NPVR to magically add all these irreplaceable features immediately. But, hoping during the time that core sageTV development is stagnant (plugins are still moving foward), it will give NPVR time to start adding useful functionality such as these. SageTV users can probably keep their setups going well after 2012; but, eventually, sageTV users will most probably need to transition to a equal or better Media Center solution.
Keep up the great work NPVR!!! I'll be watching progress..