Since old SAF thread is outdated, i created this new one. I will try to add more info, pictures and videos soon...
On the begin i must say "
thank you nevcairiel for your excelent work on LAVF!
"
So what is new in SAF6?
- SAF6 is now miltilanguage - if your language is not present, you can translate SAF and i can integrate it to next SAF release
- SAF6 have now selectable components + it is possible to set destination path
- SAF6 is based on LAV splitter/audio decoder and FFDshow (DXVA) video decoder
- thanks to LAVF, you can now play BluRay's (without menus) in any DirectShow Based players including GB-PVR and NPVR
- thanks to LAV splitter, all AVIs should now play corrertly
- thanks to LAV spitter + LAV audio decoder, a lot of MOV files are now supported
- thanks to LAV audio decoder, audio passthrough working really great including HD audio
It is nearly impossible to setup all computer around the world by one app, but SAF6 will do the best...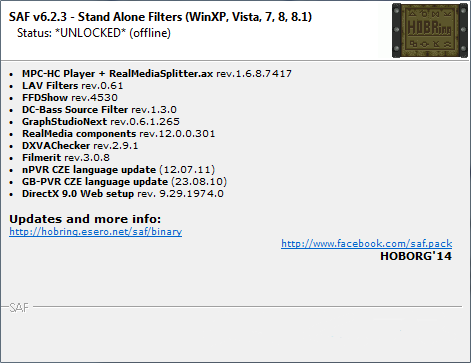 [ATTACHMENT NOT FOUND]
[SIZE="5"]
SAF6 can be download here cca 13MB (changelog).
[/SIZE]
Note:
SAF come with two version - locked (default) and unlocked. To unlock SAF, send me an PM.
SAF support audio/subtitles streams switching (if FFDshow (DXVA) video decoder is in use) - you can do it by:
- right click ony FFDshow systray icon
- press CTRL+ALT+NUMPAD0 or CTRL+ALT+NUMPAD1
If you want to hide/show subtitles, just pres CTRL+ALT+S
You can display OSD statistic too (if FFDshow (DXVA) video decoder is in use) - just press CTRL+ALT+O - this is usefull if you want to see if DXVA is in use or not
If you have good remote controler, you can map all this shortcuts to it and control all by remote.
My HTPC can do it
and it is working really great

After instalation, *unlocked* SAF should setup nPVR decoderslike on picture below: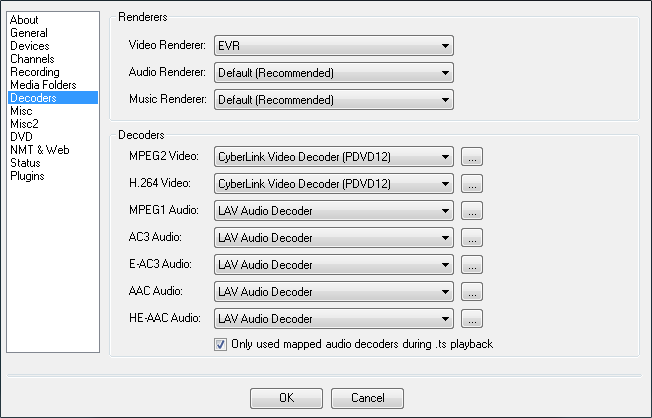 Q:
What the hell is SAF???
A:
SAF is a solution. SAF will install and configure all needed decoders/splitter, configure them and make all working just out of the box. You can install them manually and spend weeks (if ever) make all working, or you can install SAF and do the same work in few seconds.
Q:
Why to use SAF? There are already k-lite, CCCP, shark,etc...
A:
SAF was/is developed by HTPC user. Main goal is to install/touch the OS as less as possible but make as much as possible working.
Q:
What OS i need?
A:
SAF will work on WinXP SP3 or newer. Using Win7 is recommended.
NOTE:
WinXP have limitations...
For example, using NPVR on WinXP you will hit
VMR7/9 bug
Q:
What audio/video formats are supported by SAF?
A:
Well, nearly all. If you have any video that SAF6 won't play, send me small sample.
Q:
Does SAF support DXVA?
A:
Yes. Just remember you need modern GPU to use DXVA
Q:
Does SAF support DXVA + subtitles?
A:
Yes
Q:
Does SAF support HDTV?
A:
Yes, you just need unlocked SAF. Send me PM
Q:
Does SAF support DVD playback?
A:
Yes, and DVD navigation is working on all OS
Q:
Does SAF support BluRay playback?
A:
Yes, but remember you need to have any "on the fly" BluRay decrypter to play them and it will only play without menus.
Q:
Does SAF support PGS subtitles?
A:
Yes.
Q:
I only want to display forced subs! Does SAF support it?
A:
Yes.
Q:
I have reciever. Does the SAF support audio passthrough?
A:
Yes, but there are rules:
- to passthrough AC3 + DTS you can use WinXP (or newer) and SPDIF connection
- to passthrough HD audio formats you need Win7, HD reciever, GPU that support HD audio passthrough and HDMI connection
Q:
Is there anything else i need to install?
A:
No. Just install NPVR/GB-PVR and *unlocked* SAF. SAF should set all automatically.
Q:
Does SAF support Interlced VC-1 playback?
A:
Yes!
Q:
How can i see if DXVA is in use with PDVD12 decoder?
A:
Run NPVR in window mode and start for example h.264 LiveTV
START-SAF-Tools and run Graphstudio.
In the Graphstudio click File - Connect to the remote graph and click Connect
Such graph apear: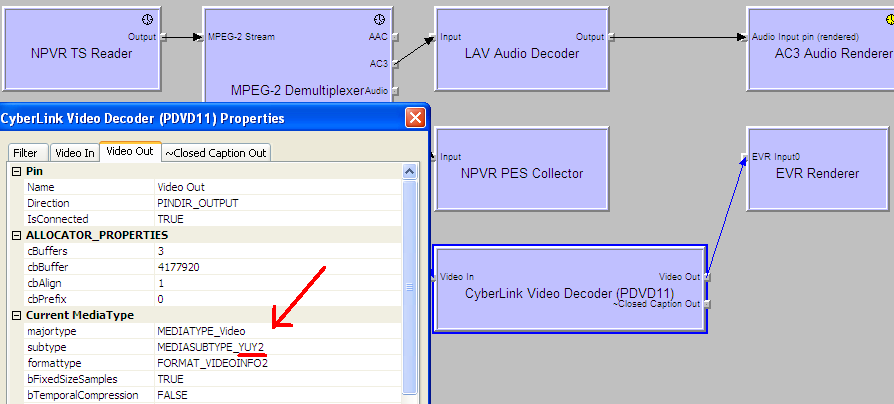 2x click on the CyberLink Video decoder, then click on the Video out
If there is NV12 or DXVA, DXVA is in use, if there is YUY2 (like on picture) DXVA of not in use.
Q:
SAF can do so much? How many it costs?
A:
SAF was, is and will be free. But if you think SAF helped you, you can support this project by small
donation
.
Q:
SAF doesn't support my language, can i translate it?
A:
Yes,
here
is how to do it
Here is My HTPC:
http://www.youtube.com/watch?v=S5o5omAT6Ec